Many thanks for your interest.
Different sales and service roles present very different talent requirements. So we ask that you complete a questionnaire measuring how well you compare to this specific position.
There are no right or wrong answers, so just be yourself.
Should you be found a good fit, you'll be immediately moved forward in the application process.
If not, you'll receive a complimentary career guide personalized to your unique success profile. In addition, with your permission, you'll have an opportunity to review job opportunities that are a superior fit with your talent set.
No matter what the outcome, you'll have your result in minutes – no Black Hole.
Have you previously completed the yMe Questionnaire?
Click here if you would prefer we use your prior findings.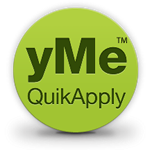 About the questionnaire:
The yMe™ pre-employment questionnaire is an actuarially-based talent assessment that has been proven to predict on-the-job success across more than 14 sales and service-related roles.
Supported by a 500,000 research population and praised by Aberdeen Group and CSO Insights, the assessment has been found EEO compliant and is already trusted by more than 2,000 employers.

Powered by SalesGenomix